Managing interpreters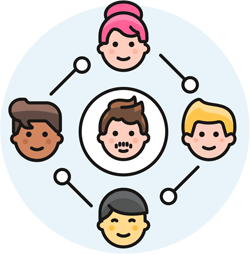 You can manage staff, sign language interpreters, and transcriptionists from the "Users" screen: you can have as many active users as your Terpsy plan includes. A user can be staff-only, staff+provider (a staff member who is also an interpreter), or provider-only (like freelance interpreters your agency contracts as needed).
Create a new interpreter (or staff member)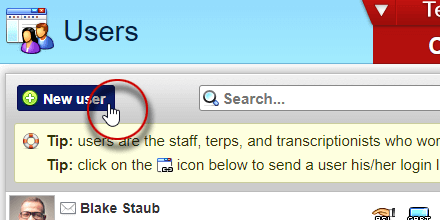 Click on the New user button near the top of the Users screen (or you can also hit the corresponding n keyboard shortcut.)

When the popup opens, enter the person's name and choose a user type. This determines what Terpsy module the person logs into, and what her permissions will be.
---
Email and phone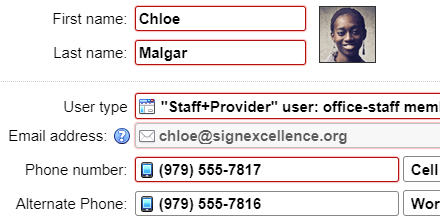 Make sure that each person has a unique email address, since it will become the username they use when logging into Terpsy. Their phone number should ideally be a cell phone capable of receiving text messages (SMS or iMessages). Several upcoming features will rely on texts.
---
Provider group / Communication modes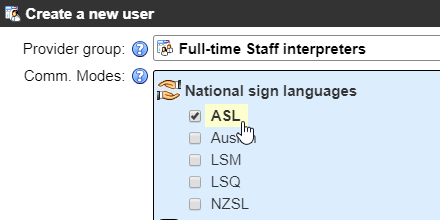 If the user is an interpreter or transcriber (vs. an admin-staff-only user), optionally assign her to a group. You can restrict some assignments to be exclusively visible to a specific group. (You can also pick a group to be auto-notified of new jobs.) Then, select each of the sign languages and types of transcription / transliteration she is able to handle. She will only be able to view open jobs for the communication mode(s) you just selected.
---
Interpreter certifications ("Specialties")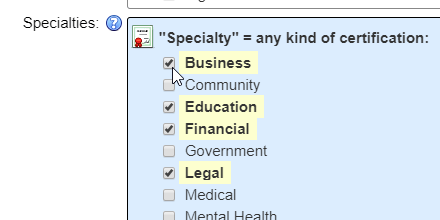 Until Terpsy supports certifications (RID nationwide, BEI for Texas…) it uses specialties. You can assign one or more Legal / Medical / Financial / … specialties to each interpreter. If you mark an assignment as requiring a medical specialty, only providers with that specialty will be able to view this job or be assigned to it.
---
Viewing and filtering interpreters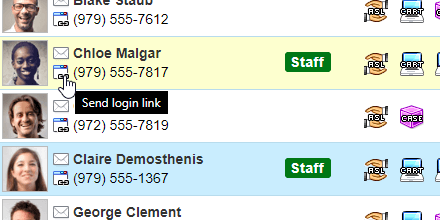 The user listing is packed with functionality: click on the email icon to send an email to the corresponding interpreter, or on the link icon (screenshot) to send that person their login link. (As a security measure, each Terpsy user has a unique login link.) Clicking on a communication-mode icon (ASL, CART, PSE, TypeWell, etc.) will filter the listing to only show interpreters / transcribers who have the skill you just clicked. Likewise, clicking on the name of an provider group on the right will filter the list to only show its members.
---
Assigning interpreters to a job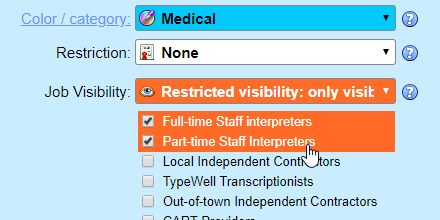 Once you've set up providers, it's easy to assign them to a job. In the "Select providers" popup, Terpsy will only show you qualified interpreters based on the assignment's restriction, visibility (public / private / selected provider groups), and sign language or transcription mode. If you're missing providers as the scheduled date approaches, you can widen the criteria by removing a restriction, making the job visible to all, etc.
---