Confirming jobs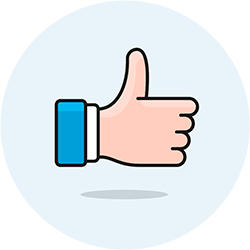 When a prospect or existing client schedules interpreters / transcriptionists, it arrives as a request, which you can accept or decline. When you accept an assignment, you can use Terpsy' built-in "confirm job" functionality to email-confirm the assignment details. In other cases, you just can mark a job as "confirmed".
Confirm an assignment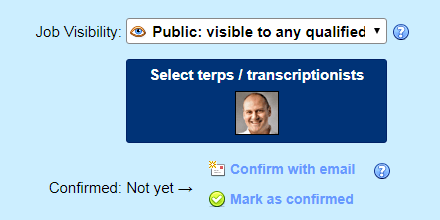 Once you've created or imported an assignment, it will show two buttons to confirm the assignment (see screenshot).

If you click on "Confirm with email", a new email window will open, with generic message (which can be customized). Click Send Email once ready: Terpsy will send the message, and automatically mark the job as confirmed with the current time-stamp. Additionally, the activity logs will include a record of which staff member confirmed the job, and when.
---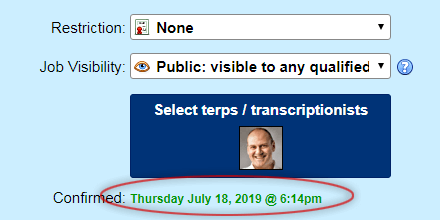 If you prefer not to do this with email, click on the "Mark as confirmed" button instead. You will be asked for confirmation first: if you agree, the job will be marked as confirmed without having to send an email, and the assignment will be timestamped accordingly (circled on the screenshot).
---
Confirm all jobs in a series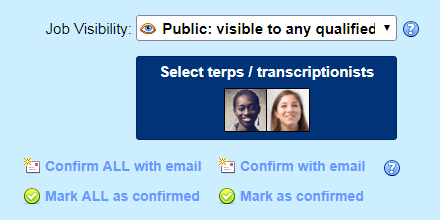 Requestors can also book recurring appointments: when it comes to confirming repeat-jobs, you can either confirm each job in the series individually, or confirm all assignments scheduled in a single swoop. The screenshot shows the four buttons displayed for recurring jobs. They work just like confirming a one-time job. When confirming via email, the difference is that all appointment dates will be included in the message.
---
Find unconfirmed assignments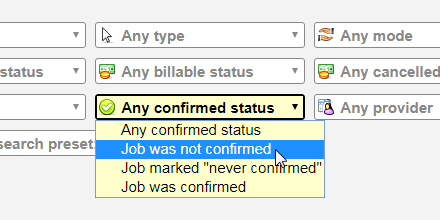 Under Cal & Jobs › Job Search, you can locate all assignments that haven't been confirmed yet (for a specific time span or not). If you use Terpsy's job-confirmation feature, this is the easiest way to keep track of unconfirmed assignments. Any invoiced job is no longer editable: this means that if you forgot to mark as confirmed that job before billing for it, it will keep appearing in search as "not confirmed". There's a solution for this:
---
Mark unconfirmed jobs as "never confirmed"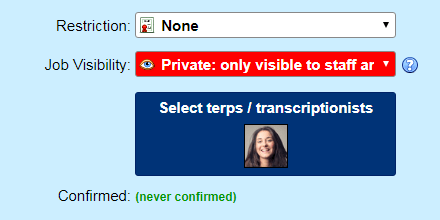 Go to Settings › Account, and click on the "Mark unconfirmed past jobs as "never confirmed" button. Confirm your intent: all these jobs will be marked as "never confirmed", and will no longer appear as "not confirmed" (subtle distinction). Note that the "Account" tab is only visible to the agency owner, not other staff members.
---