Job restrictions and interpreter specialties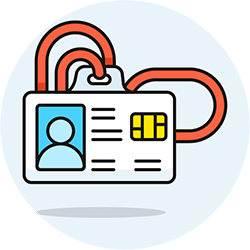 Sign language interpreting certifications are not yet integrated into Terpsy for the countries in which it is offered. But interpreters in your agency can be assigned one or more "specialties" (legal, medical, financial, etc.) And the Job Editor includes a "restriction" dropdown that lets you restrict acceptable providers by specialty.
Hiding an unfilled assignment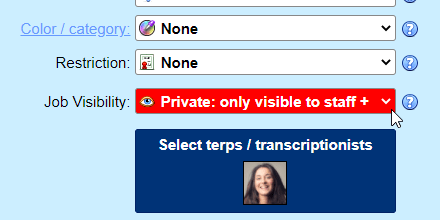 The Job Editor includes visibility settings: they let you make a specific job visible only to interpreters and transcriptionists who belong to a particular provider group. A job set to "private" is only visible to staff, the customer who scheduled the job, and the providers assigned to that job. No email notification is sent for private jobs either.
Restricting an assignment by "specialty"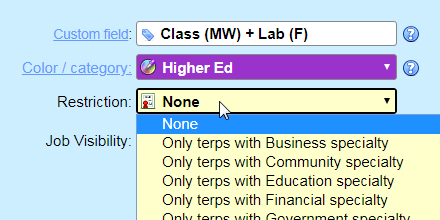 When you create or import an job into Terpsy without assigning all the requested interpreters, your providers can view and request to be assigned to it from their Job Manager. If you select a "restriction" for that job, only interpreters with the corresponding "specialty" will be able to view (and request) that assignment.
---
Assigning interpreter specialties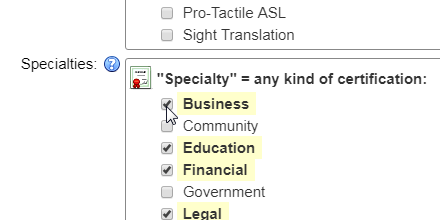 Only agency staff can add or remove interpreting skills (ASL, CART, TypeWell…) and specialties from providers. Go to Users, and double-click on the one you want to edit. Check one or more specialties and click Save. When this interpreter / transcriptionist next logs into her Job Manager, she will see open jobs filtered based on the specialties you picked for her (along with other criteria like language skills or group).
---