Adjusting an invoice (debits / credits)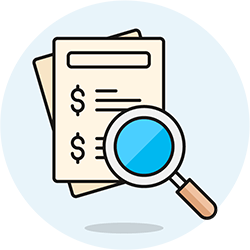 You can set up all the fees and discounts you need. But for one-off credits or debits, you can use the "invoice adjustment" feature. It lets you enter an amount to add or deduct from the current invoice, with a description of your choice. If you charge sales taxes / VAT, note that invoice adjustments are always applied after taxes.
Create an adjustment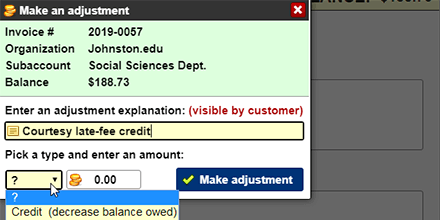 Open the invoice in question, and scroll to the bottom: right above the balance row, click on the "Adjust invoice" button.

Type a clear description: it will be visible by your client. Then, select whether the adjustment is a credit (an amount that will decrease the balance owed), or a debit (an amount that will increase the balance owed). Enter an amount, and click "Make adjustment".
---
When should you use adjustments?
Here are a few scenarios where you should consider adjusting an invoice - or not:
The customer's payment was short; but it's a good client, and you don't want to bring it up, or ask them to pay a petty amount. In that case, adjust the invoice with a credit for the remaining balance to bring it to zero, and show the invoice as paid. (In financial reports, Terpsy only sees two states: paid, or unpaid. An invoice will appear as unpaid, and even past-due, even if its balance as low as a single cent!)

---

Your client was late paying his / her bill, and you've added a late fee to the invoice. If the payment was mailed before you applied the late charge, or if you want to make an exception, adjust the invoice with a credit corresponding to your late fee. You could just remove the late fee (as shown on the screenshot), but the adjustment potentially buys you good will, and shows that your agency has some understanding. If there's a history of late payments, keep the late fees on invoices for the record - even if you end up crediting them with an adjustment.

---

If you charged sales taxes or VAT before you marked as customer as tax-exempt, you should NOT use adjustments. The sales tax would then show in your sales tax report (an upcoming feature), even if you didn't collect the tax. In that case, just change the tax dropdown to "No Tax": Terpsy lets you do that even for published invoices to address that very scenario. The tax will be removed, and the balance updated, and the changes automatically saved.
---