First things first: what to do after you've signed-up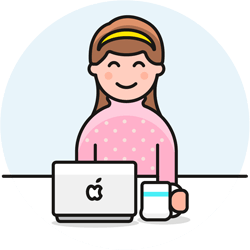 To keep the sign-up form short and simple, we only gather basic information about your agency (or yourself, if you're a freelancer). To start fully taking advantage of Terpsy before your first booking, here are a few things you should tackle. But first, take a few minutes to click around Terpsy, to get familiar with all its screens.
Accept booking requests
People can schedule interpreting and transcription with you in two ways:
Existing customers typically do so from their "Account Manager". It's a dedicated Terpsy app that makes it super easy for your clients to book your services - in just a few clicks, literally.
Prospects request your services from the page on your website where you embedded Terpsy's "service request form". If you don't have a website, you can send them a direct link to that form.
You'll find the code and direct link for that form under Settings › Account › Request Form. (Note: the "Account" tab is only visible to the agency owner - your employees will not see it.)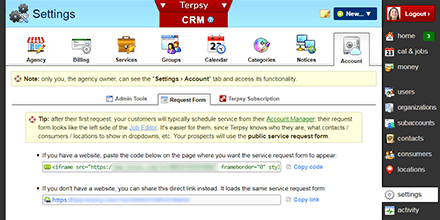 ---
Customize your rates
When you signed up, you entered a single, base hourly rate. Terpsy lets you modify rates based on the time of day, weekdays vs. weekends, with optional pricing during billing holidays. Go to Money › Rates, and click on the single rate you have so far (the one you entered when you signed up).
Yes, the popup that opens looks a bit scary the first time you see it, but it's actually pretty simple. Each text box at the top corresponds to a combination of time, day, or holiday, etc. The tooltip that opens when you click inside one of those boxes gives you an example, to make things easier: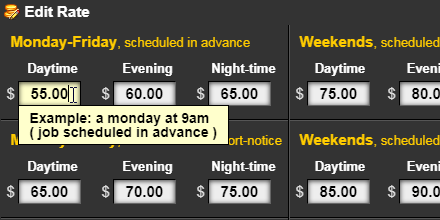 ---
Review your rate visibility
By default, rates are only visible to your customers, when they are logged into their Account Manager. That's useful if you don't want your competitors to know how much you charge; it also avoids embarrassing situations if you charge different rates to different clients. (Each client can be assigned to a custom plan; by default, new organizations automatically use the "Default Plan".)
But if you want, you can share your rates on the public service request form: under Settings › Billing. Select "Any requestor" from the "Show your rates to" dropdown on the left. Click Save.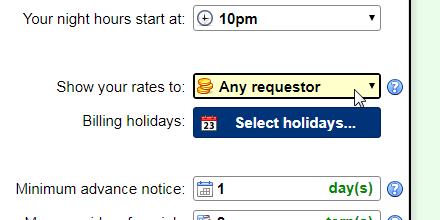 ---
Select your billing holidays
By default, no billing holidays are selected: go to Settings › Billing, and click "Pick billing holidays...". Select all the federal and state holidays for which you'd like to bill at your holiday rates, and click Save.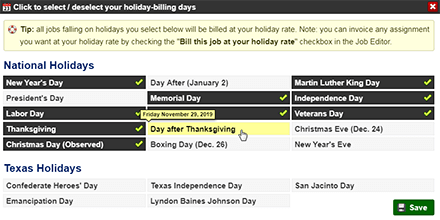 ---
Review your calendar settings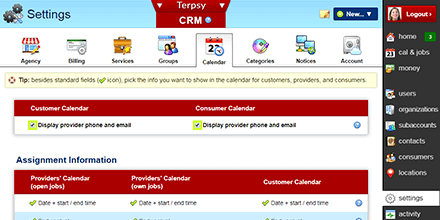 Besides the CRM (where staff logs in), Terpsy includes three modules, each of which has its own calendar. Go to Settings › Calendar to review which information is displayed on which calendar. Make sure to comply with federal, state, and local laws dealing with your deaf and hard-of-hearing consumers' PII / PHI. The first two checkboxes only matter for multi-person agencies, where the owner might prefer consumers and customers communicating with her and her staff, rather than directly with her interpreters and transcribers. (Remember to click "Save" at the bottom if you've made any changes.)
---
Create color categories for your calendar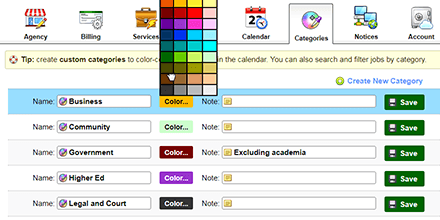 Color categories bring colors to your calendar, and let you quickly identify different types of jobs. When someone schedules an assignment with you, you can customize all kinds of attributes when importing that job. "Color category" is one of them. These categories also become filters for the calendar. This feature is mostly useful for agencies, or full-time freelance interpreters / transcriptionists with lots of jobs. To create your first category, go to Settings › Categories, and click on "Create new category".
---
Add your Terms of Service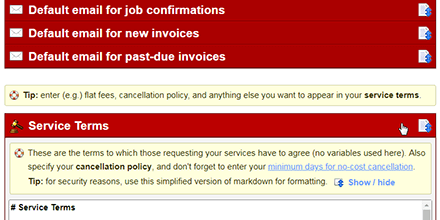 When prospects or customers schedule interpreting services with you / your agency, they have to check a checkbox confirming that they agree with your Service Terms. To add your service terms to Terpsy, go to Settings › Notices, and click on the "Service Terms" header at the bottom.
---
Creating your own terms
Because of the number of jurisdictions in which Terpsy users operate, we can't include a generic, legally binding template for your service terms. The American Translators Association provides some useful material, portions of which applies to sign language interpreters and transcriptionists.
More broadly, here are some things you should consider covering in your Terms:
Are travel times included in your rates? What are the exceptions?
What happens when an interpreter is needed beyond the scheduled end of the assignment?
Make sure that clients understand your rates - especially for interpretation during holidays, short-notice or last-minute requests, etc. It's easier to answer questions before the bill comes.
Are there flat fees? (E.g., a set-up fee for a TypeWell assignment.)
What are your payment terms, past-due invoice fees, and collections policy?
What is your cancellation policy? What kind of notice to you require for no-fee cancellations?
Under which conditions do you reserve the right to terminate a current or future agreement?
Etc.
---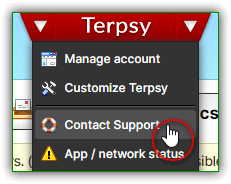 This concludes your first steps in Terpsy. Thank you for signing up, enjoy using Terpsy, and most importantly, explore: the more time you spend discovering Terpsy, the more time you'll save in the long run.

Remember that if you need any help, we're just two clicks away!
---