Interpreter scheduling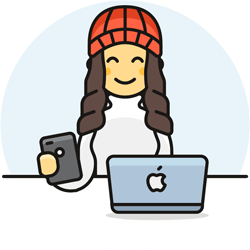 From their calendar, providers can request appointments and recurring assignments for which they're qualified - based on mode of communication (ASL, TypeWell…), certification, gender restriction, job visibility (public/private), assigned group, etc. You can then schedule interpreters as you see fit.
Restricting assignment qualifications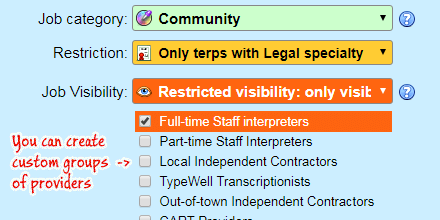 Booked appointments don't appear on your calendar until you've had a chance to review and approve them. This lets you make corrections, and customize which interpreters will be qualified to handle that job. Communication mode (TypeWell, ASL…) is part of it, but you can also restrict by specialty (see note), or provider group.
Providers can request assignments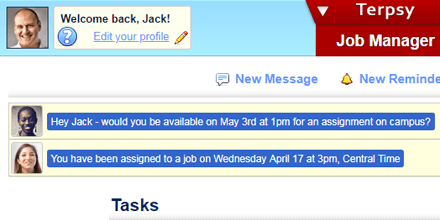 You can customize what assignment information is shown on the calendar for open jobs: typically, as little as needed. With support for multiple timezones, everyone's calendar shows jobs and events in their own time zone. Once an interpreter / transcriptionist has been assigned, she will receive a notification that she got that job.
Filtering the master calendar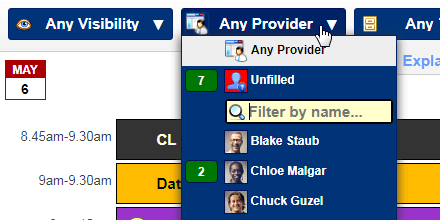 You can filter the master calendar to get a good overview of the weeks ahead: by job visibility (public / private / custom group), assigned provider or unfilled status, by assignment type (education, legal, medical…), communication mode (ASL, CASE, PSE, CART, TypeWell…), or even by custom calendar category.
Assigning interpreters / transcriptionists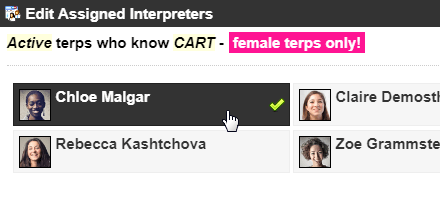 When you're trying to assign an unfilled job, Terpsy will only show you interpreters or transcribers qualified for that particular job. When they log into Terpsy, the only unfilled assignments they will see are the ones which they are qualified, based on their communication skills, and any restrictions you've applied to that assignment.
---
Fully functional, free 30-day trial
No credit card required
Sign Up
Set up your agency in minutes
Start using Terpsy today
---