Customize your agency's settings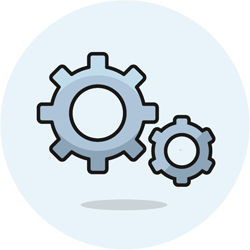 You can tailor Terpsy to your agency: billing information shown on invoices, which staff members handle questions from customers, providers, and consumers, which sign languages you offer, etc. You can also configure things like provider groups, color-coded calendar categories, email templates, public notices for clients, etc.
Overview
Terpsy is designed to make your life easier, so it's highly customizable, to adapt to your agency's workflow - rather than the other way around. Here are the highlights:
Interpreting Services: you can select the sign languages, transliteration methods, and transcription modes your agency supports. Only those will show up in the service request form.
Provider groups: you can create groups to organize your interpreters / transcribers. A group can automatically be notified of new jobs when they're posted. You can also use groups to restrict the providers who can see a particular assignment (and make new jobs visible by default to a group).
Calendar settings: control the information shown on calendars for providers and customers.
Custom assignment categories: color-code assignments on calendars, use these categories to search for jobs, or filter the calendar on-the-fly to only show certain categories.
Email template: customize the text sent from Terpsy (job confirmation, invoice notification, etc.) Use custom variables to personalize these notices (e.g., auto-inserting a client's first name).
Sticky notices: quickly notify all customers, providers, or consumers who log into Terpsy.
Billing options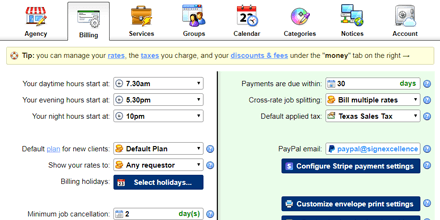 Billing settings deserve a special mention, since they directly affect your bottom line: you can customize how late an appointment can be cancelled before it happens, how much notice you need for a booking, the maximum number of providers that can be booked for a single appointment - and much more. The challenge was to bring you all that billing flexibility while keeping Terpsy's core mission of absolute user-friendliness.
---
Fully functional, free 30-day trial
No credit card required
Sign Up
Set up your agency in minutes
Start using Terpsy today
---